THERE'S A PARTY IN MY TUMMY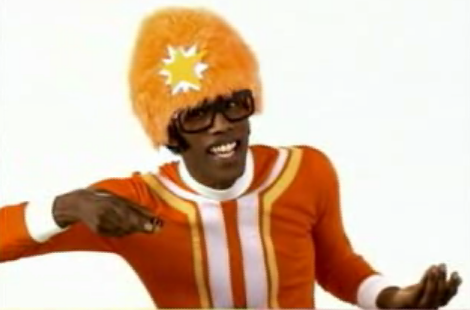 I recently took my kids to see Yo Gabba Gabba Live as an early christmas present. For those of you who don't know Yo Gabba Gabba (which I would assume would be most of you) it's this kids show where they sing and dance and you learn to brush your teeth and stuff, but that's where the comparison between it and Barney ends. It's not your typical kids learning show. Anywho, you meet DJ Lance Rock (pictured above) and he looks awesome, right?? Right.
So, back to the live show - I had gotten FLOOR SEATS for my kids, because I'm a cool mom like that, and they were all pumped and ready for the show. Kids were happy and not pulling each other's (and my) hair out, we had bought our $10 (a piece) glow sticks, shirts were being happily worn (by kids) and it was like 5 minutes to showtime. You could feel the crowd crackling with excitement. Again, we had our perfect floor seats where we could clearly see the stage and the kids would be able to hug Foofa as she walked by.
...3 minutes till show...
There's a small disruption happening on the row ahead of us, people are moving and there is a shape slowly making their way down...
...2 minutes...
This shape keeps moving and seems to be heading towards something, but is that a glimpse of orange that I see?
...1 minute...
The shape stops in the seat right in front of us, he turns around...
And it's this old man in a DJ Lance costume who doesn't have a kid with him.
So old man took something that was awesome and made it not as awesome.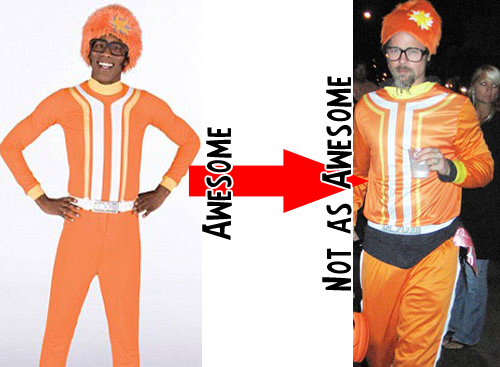 No offense to Brad Pitt, who, while sometimes does look awesome, does NOT pull off the awesomeness of DJ Lance Rock.
And the worst part is the old man decided to stand throughout the show --
'eff you old man.
Looking back over my post I now wonder why did I decide to write so much?
Answer: I just don't know.
RELEASES HERE!
We are going to start a new thing on our projects page called "On Hold". If a project is being put on hold (like Kiss will be) there will be a reason why underneath the download links. Now if you are a person who thinks they can help with the project, please let me know.
A BIG thank you to the staff, who always makes the magic possible. XDD
1.
Caramel Kiss v01 c01
- Kiss is
really
cute. I really really really want to continue this project. Currently we have raws of chapter 02 (but no translator) and then we have no raws after that. So, if there is anyone who would like to be a translator (and/or) scanner/raw provider of Kiss let me know. Even if you can only provide we have a wonderful scanner on staff!
2.
Daisy Luck v02 c06
- Shalalalala~ kiss the girl! Happy New Years Everyone!! I would especially like to say thank you and happy new year to all of FG's staff. We have had quite a few bumps in 2010 but then again we have had a bigger share of wonderful things happen, so thank you all for hanging in there thru the good times and the bad. *raises glass* Here's to my staff and friends - you deserve the world and while I can't give you that I can give you all the
work
pretty boys your heart desires. Thank you all very much, you really are the best group of girls (and boys) ever!! XD *big hugs*
3.
Daisy Luck v02 c07
-
Day 3. Kinda late in the day but whatcha gonna do? We will be starting a new project that should start coming out as soon as we wrap up Daisy Luck, so look forward to it! :)
Also we desperately need some new editors or cleaners - even if you can only help out for a couple of chapters please help!
And speaking of old men - we would like to wish a happy birthday to our other admin, SomeoneElse!
Show your face more and you might not have a pie to the face.
Enjoy the releases! We'll probably be releasing daily! (until we run out) :)
Currently NEED editors and cleaners!!